Nipun Goel, a second-year UFV India BBA student, spent this summer working on futuristic technology in the ancient city of Athens, Greece.
He was hired as a Business Development Intern with Muse Robotics, a technology startup specializing in the manufacturing of customized motor controllers.
But why travel nearly 5000 kilometers away from home for an internship? It all comes down to international learning.
"Each country has its own way of running a business", says Goel. "I had some understanding about India, but I wanted to explore how business works in a European country. With this internship, I got to do that, and so much more."
As part of the experience, Nipun worked with international interns from Zimbabwe and Egypt which further amplified his cultural learning.
The internship was facilitated by AIESEC — an organization that facilitates international internships for Indian students — as part of their Global Entrepreneurs program. Nipun was selected for his post after a rigorous selection process.
"I knew from the beginning of my search that AIESEC internships in Greece are difficult to get", says Goel. "When this particular organization selected me after a long interview, I was over the moon."
This is not the first time that Goel has set his sights on a high-tech field.
In 2017, Goel and a team of fellow UFV India students won third place in a business planning competition at Delhi University for a drone food-delivery service concept. He credits his interest in technology and programming to his UFV India professors and family.
At Muse, Goel had the opportunity to witness the birth of a startup from the ground up.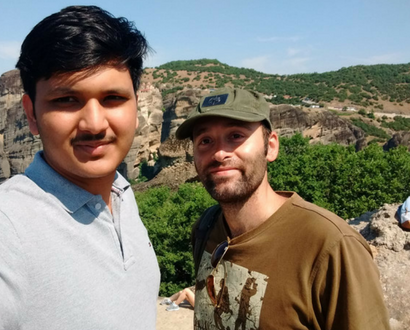 "I helped defined the mission and vision statements and completed a comprehensive competitor analysis", says Goel. "I was also their front office personnel, so I represented the organization at international exhibitions in Italy and France. This provided me an opportunity to understand Muse's clientele and their pain points."
Nipun had previous experience working as the Finance Manager of the 2018 UFV India Student Company Program, Nobizers. He drew on this experience to add value to conversations about Muse's financial position.
"With Nobizers, I knew the basics of handling the finances of a project. But I always wanted to work on a proper company's finances. I got to do that with Muse."
Studying at UFV India in Chandigarh helped Nipun easily transition into his new workplace.
"In the first year of my BBA, I learned the basics of all business functions", says Nipun. "The International Marketing and Professional Report Writing courses were especially helpful for me in my new position."  
Now back in Chandigarh, Nipun plans on transferring to UFV in Canada next year. With cultural experiences from Athens and UFV India, Nipun is excited about his prospects in British Columbia.
"This opportunity has armed me with more insights about international business practices — it was a very enriching cultural exchange."