After months of hard work, holding internal elections, forming an organization structure, going through actual production, and preparing a pitch for investors, the student company program 2019 proudly launched La BlesEnce — an organic soap company.
The official launch started in the afternoon as the guest of honour Dr. Mike Ivanof expressed his thoughts on the program. After sharing some words of inspiration, Mike unveiled the company banner, followed by an informative team video that narrated the members' take on their work.
The CEO of this year's program, Mr. Rohan Singh, then took centre stage and spoke about his journey from the first day to this day of the launch. With utmost confidence, Rohan delivered a stirring speech which had an account of how they worked as a team and overcame problems that they encountered in this real corporate world simulation.
Soon after the CEO's speech, the house was declared open for trade by Dr. Ivanof. As sale went public, a simultaneous Investors Presentation kicked off. The select audience comprised of the Guest of Honour Dr. Mike Ivanof, some faculty members of UFV, and other prospective investors. On stage was the company CEO Mr. Rohan, accompanied by Ms. Dinkey Verma who briefed everyone about the Marketing Strategies, and Mr. Aditya Setya who took charge of all the finances, promising the investors a 75% ROI (return on investments).
In addition to being profitable, this year's company aims to become a socially responsible organization as well. One of the products by La BlesEnce was conceptualized after Rohan and his team witnessed huge coffee wastage in cafés in and around the town. They recycled this coffee in their soaps which added natural colour and essence to their product. Much more than cost-cutting and profit maximization for the company, this product makes a positive impact on the environment.
La BlesEnce will also be contributing to three separate social campaigns. As many as 1000+ cases of swine flu were reported out of Delhi alone in January 2019. This news made them make soaps which people could use and eventually live a healthy, germ-free life. The company also pledged to donate 5% share of the profit to the Armed Forces Fund. By self-manufacturing a product from scratch to the shelf, they are partaking in Make in India campaign run by the Government of India.
Due to large audience engagement, the team achieved the set target of INR 17400/- in share capital and 4600 in debentures within the first two hours of the launch. The 23 promoters now make up for 51% stake in the company.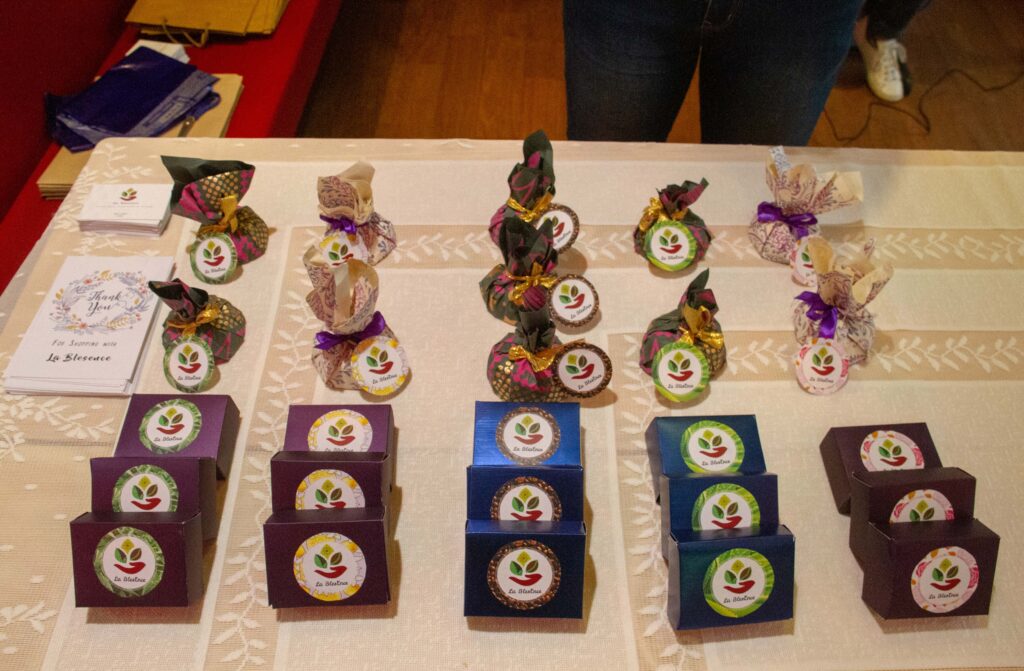 Sharing his take on the company's performance on the first official sale during launch day, Rohan said, "Only with unity and teamwork could this launch have been so successful. We did face some bumps initially, but we all held strong as a team. Now, my primary focus will be to get the bulk order delivered timely, to spend the share capital very wisely, and to return the investment share as promised."
Saniya Ahluwalia, Coordinator, SLIE, had been closely associated with the company since inception and called the three company leaders like the three musketeers. She shared "I am pretty happy with the launch; it was a successful one with the team getting a major bulk order." She also added, "Until now, the students were only at the initial stage of planning, moving forward they would swing into full production mode."
After looking at the potential of the product and the energy of the team, Mike finally affirmed: "This year, I don't want you just to wind it up, I want you to ramp it up."